Ocena
Ogólna ocena właściciela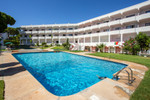 The landlord, Hostwise, required us to pay rent starting October 1, 2021 when we arrived October 24th. They then rented it during the time before our arrival to others thus collecting double rent. They agreed to reimburse us 576 Euros which they have not done. They also kept our 770 Euro deposit after emailing us it would be returned, and collected 133 euros extra for our last months rent.

We have tried numerous times to get things resolved with both the landlord and Flatio with no success. We found out about Flatio from a facebook group about expats in Portugal and have warned everyone about what happened to us, will be filing with the complaint system in portugal and going to an attorney next. How sad. We were great tenants, taking excellent care of the apartments and giving numerous opportunities to make this right.

We would not recommend working with the Landlord, Hostwise, or with Flatio as they did nothing to resolve these issues.

Gail D.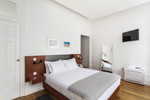 Great room, and location. Lack of renewed bedding and limited cleaning schedules but for the price it's worth it.

Levi R.
Referencje
Na razie nie ma żadnych referencji