Ocena
Ogólna ocena właściciela

Ocenione na: 27.02.2023 Długość pobytu 1 miesiąc
We have been super comfortable stay in the apartment, the place is nice and cozy and has everything you could need. During the winter Albufeira is super calm so we were very happy about this, but in the summer it looks like a very party place, so have it in mind if you look for calmness.
Catarina was super helpful, easy, and fast communication always.
Thanks a lot!

Alejandro P.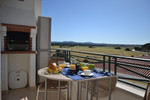 Good Jacinth M.

Catarina is quite understanding and super helpful. Ugo N.

Ocenione na: 04.11.2022 Długość pobytu 1 miesiąc
Very nice stay, Katarina was very helpful, probably best price/quality ratio in the area.

Josef Z.

Ocenione na: 01.11.2022 Długość pobytu 1 miesiąc
Nice

Andreas D.

Overall, it was very nice staying at this apartment. Catarina was 100% helpful every time we needed it.

In my opinion, if you're staying more than a few days, the kitchen is too small and you can barely cook (from 4 stoves, there is just one working) and a very small fridge. As I was there for a month, I missed that. If you're just having some holidays it won't be a problem at all.

The flat is very well taken care of and it was tidy and clean when we arrived. The kitchen smells humidity a bit.

The location was quite alright, we could go walking or cycling to Armação du Pera or drive for 3 min. Many supermarkets are available around as well.

Elena R.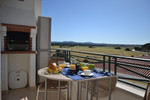 Nice tiny apartment in a fantastic place. The apartment is well equipped, even for a long stay. The balcony is equipped with a built-in grill and has a very nice view of the fields and mountains.
The best in this place is the beach, coast, and sun sunsets.
The host was very very kind and helpful. Thank you!

Igor B.

Ocenione na: 02.06.2022 Długość pobytu 1 miesiąc
Very clean and modern apartment but loud neighbors upstairs and continual barking dog…but that's normal in Portugal
Edward M.

Ocenione na: 05.05.2022 Długość pobytu 16 dni
Excellent

Weiqin L.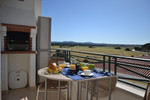 very good place and awesome customer service

victor gaston o.

Ocenione na: 15.11.2021 Długość pobytu 1 miesiąc
My girlfriend and I had an amazing time in Guia. We arrived in mid October and stayed for a whole month. The flat is very spacious, has a lot of light and is equipped with everything you need (including washing machine, beach chairs, umbrella, ...) . Probably the best thing was the short distance to the beach where you can experience wonderful sunsets. Staying in October / November wasn't a bad choice. You have the area for almost yourself and the weather was warm enough to jump into the pool or sea.

If you arrive by car (recommended) you get a parking spot in the garage, which is directly accessible by elevator.

As for remote workers: internet is great. Just the dinning table / chairs were not that comfy.

Thank you to Catarina, our host, who was very responsive and helped us with everything we needed.

Francois-Cedric W.
Referencje
Na razie nie ma żadnych referencji